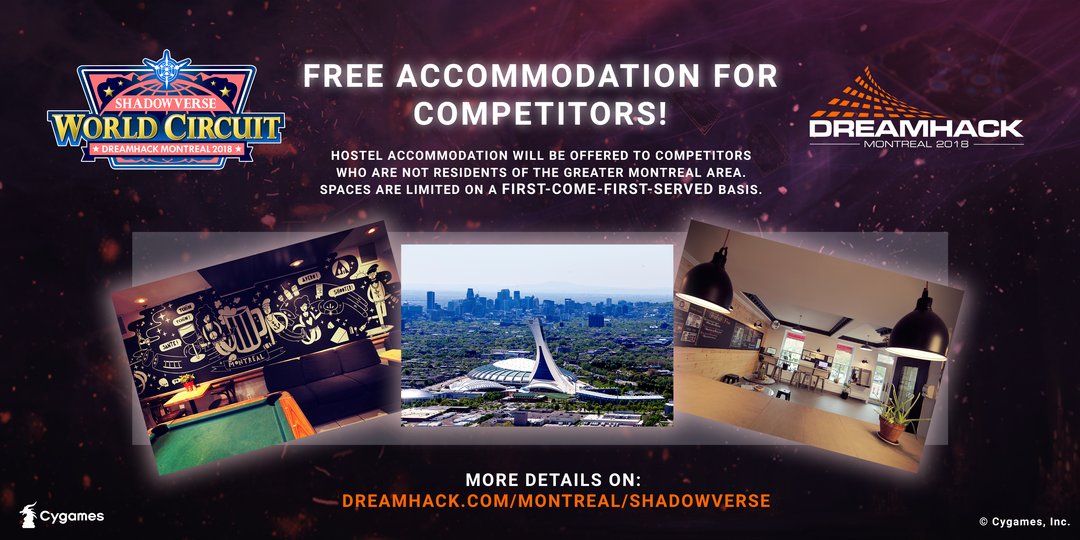 Free Accommodation for Shadowverse World Circuit: DreamHack Montreal Participants
Hi-Montreal Hostel
1030 Mackay St, Montreal, QC H3G 2H1, Canada
If you're planning on making your way to Montreal, you can enjoy free accommodation on a first-come-first served basis. Check-in will be on Friday 7 September from 3pm to 2am and check-out will be on Monday 10 September until 11am at the Hi-Montreal Hostel.
This hostel is set in Downtown, within 6 minutes' walk from 4 bus stops and 1.6 miles from Quartier Latin. Amenities include free breakfast and free Wi-Fi. There's also a casual cafe/bistro and pub, and a kitchen for guest use, along with bike rentals.
Getting to Hi-Montreal Hostel from Montréal–Pierre Elliott Trudeau International Airport
Take a taxi
The taxi ride costs about CAD$40 and it's a fixed rate. Prices are displayed inside every taxi.
Take the shuttle
The 747 Express city bus operates a 24/7 year round shuttle service between the airport and the bus terminal, stopping downtown en route. The closest stop from the hostel is at the corner of rue Guy and boulevard René-Lévesque. Rue Mackay is the next street (running between the two car parks) when walking East on René-Lévesque. The hostel is on your right. If you return to the airport, the stop is at the corner of rue Bishop and René-Lévesque (across the biggest car park.)
The 747 buses are equipped with three luggage racks. The fare is $10 payable cash onboard. Notes are not accepted so be sure to have enough coins. The 747 bus ticket allows you to travel unlimited for a day on the bus and métro network.
How to get to the Olympic Stadium from Hi-Montreal Hostel
It takes about 30 minutes to get to the venue from the hostel and costs CAD $3.25.
Walk to the Guy-Concordia metro station, hop on metro line 1 bound to Honore-Beaugrand, ride 11 stops and get off at Pie-IX station.
Other FAQs
Q: Is a credit card needed when checking in?
A: No.
Q: Is there a fee when checking out?
A: No.
Q: Is breakfast included?
A: Yes. Breakfast is included.
Q: Is Wi-Fi available?
A: Yes. Wi-Fi is available at the hostel.
Q: Can I bring another person along?
A: No. The rooms are only reserved for participants of the Shadowverse World Circuit DreamHack Montreal 2018 Tournament.
Q: Are the rooms mixed?
A: No. The rooms are divided by gender.
Q: Can I decide which room I'm in?
A: No. We will assign the players to the rooms.
Q: Do I have my own individual bed or is it shared?
A: Each player will have their own bed.
For additional questions, please contact us at shadowverse@dreamhack.com or on Discord.