DreamHack's new Payment Plans allow you to reserve your ticket now and pay for it over the course of 6 payments, starting with the first today. This helps you reserve the ticket you want and if you're coming for BYOC, it even lets you select your seat in the LAN area, so you can sit next to your friends. No more getting stuck across the room from your friends just because you had to wait to buy your ticket! You can even change the form of payment at any point along the way.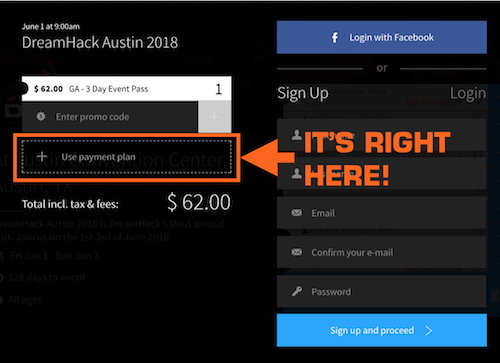 To purchase your ticket via a payment plan, simply:
Visit the Ticket Page here and add the desired number of tickets to your cart
Click "Buy Tickets" and decide if you want to add "Mystery Boxes" (if in stock)
Click the "Use Payment Plan" option on the left
Review the terms and click "I Agree"
Complete the booking process, making your first payment today. Additional payments will be automatically be charged to the same credit card each month until the ticket purchase is complete! (optional to change the payment card if you'd like)
Pick up your tickets at registration!
If you have questions, quit scratching your head and email us at support@dreamhack.com (for real stop… that probably causes dandruff)