Who said that you can only bring your friends to DreamHack? We believe that gaming is for everyone, including your family! There is something to do at Dreamhack for all ages and to make things a little easier for you to bring everyone along we've created a family section in the LAN!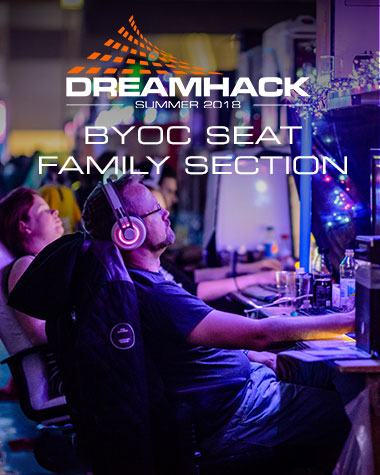 The Family section is located in the south part of the LAN in hall B. This offers you the original LAN experience and view of the Activity stage ,and at the same time you will be in a quieter area a bit further from the regular LAN rows. See the seatmap for a detailed view of the area.
The BYOC Family ticket is intended for parents and their kids and allows you to book a seat in the Family section of the DreamHack LAN area. Your ticket grants you access to all of DreamHack's activities such as the Expo, Esports area and sleeping area. You can also compete in all DreamHack's competitions and activities.
A ticket is needed for each visitor/family member.
---
What's included in the Family Ticket?
1pcs 10amp schucko outlet
Table size 120x60cm and 80cm high
---