Tired of always rushing B? Why not become the no#1 camper at DHS - Camping site for tents is now available!
---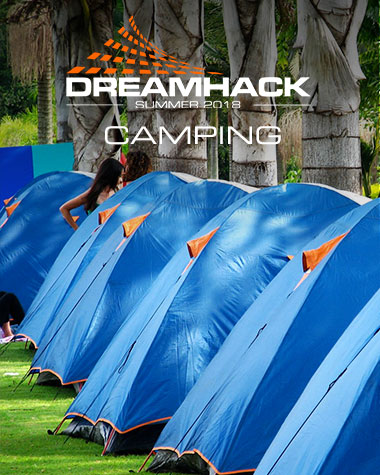 Welcome to the DreamHack Camping! We have a simple camping next to the parking lot at Elmia. At the camping you find a hygiene facilities with shower and washrooms.
When you arrive you check in with your printed ticket voucher. The camping is open around the clock and is staffed from 08:00 – 22:00
DreamHacks camping for tents, next to the main camping site and parking. The camping is open from 18:00 Friday the 15th of June until 12:00 Tuesday the 19th of June.
Entrance to the event via Lobby south.
Space for one regular 2-5 man tent
Power (Bring extension cord 230V 30m)
Access to Toilets
Access to Showers
Parking is available next to the camping but not included.