PRESS RELEASES
Recent DreamHack Press Releases Here
---
PRESS PASS REGISTRATION
To apply for a complimentary press ID, please submit the following form (once for each member attending from your organization, including a unique email for each person). You will receive confirmation within 1-3 business days of submission. All accredited press can anticipate receiving approval and should plan travel accordingly. We are able to accept press at the door as well - please submit the following press form and then email the press contact in the footer for same day press pass requests.
VENUE LOCATION
Elmia Fair
Elmiavägen 11, 554 54
Jönköping Sweden
Map Link Here
---
EVENT SCHEDULE
Dates: Jun 16-19, 2018
Doors Open: 08:00am Saturday 16th of June (open 24 hours)
Doors Close: 10:00am Tuesday 19th of June
Opening Ceremony: 23:59 Saturday 16th of June (Midnight Countdown) - Suggest arriving 15-30 min early.
Event Schedule: Link
Press Registration Desk: Lobby Syd "Press" Line
Press Room: Lobby Nord, "Press" Area (Near Hall A Entrance)
Press Interview Room: K18 (Between Lobby Nord and Syd; see map below)
Parking: When checking in at registration to receive your press credentials, you may also request a parking pass which you can take out and place on your vehicle for complimentary parking for the full event.
Press Pit Temporary Pass: You can request a temporary pass to access to the Press Pit in front of the Open Air "Main Stage" or Hall B "Activity Stage" by visiting one of our stage coordinators at the "Stages Reception Desk" located at the backstage entrance to the Hall B Activity Stage. Press must stay in the pit area and are not able to step directly onto the stage. Passes are available on a first-come first-served basis and for safety and security reasons, we are unable to exceed the limited number of passes available under any circumstances. Access during concerts is limited to the first three songs before the press pit will be closed. Note that the Press Pit isn't always the best view of the stage, such as during the opening ceremony, when viewing the full stage and fireworks from further away is likely preferable.
DreamHack invites the press to request interviews with attendees and our leadership staff during the event. Interview scheduling details below.
---
MEDIA ASSETS
DreamHack Images: Link
DreamHack Videos: Link
DreamHack Logos & Guidelines: Link
DreamHack approves editorial use of the photos linked above, including all content on the DreamHack Flickr page, as long as the name of the photographer is visible in the byline.
---
DREAMHACK SOCIAL MEDIA CHANNELS
Facebook
Twitter
Instagram
Twitch
YouTube
Snapchat
Flickr
Discord
QuakeNet: #DreamHack
---
DAILY PRESS OPPORTUNITIES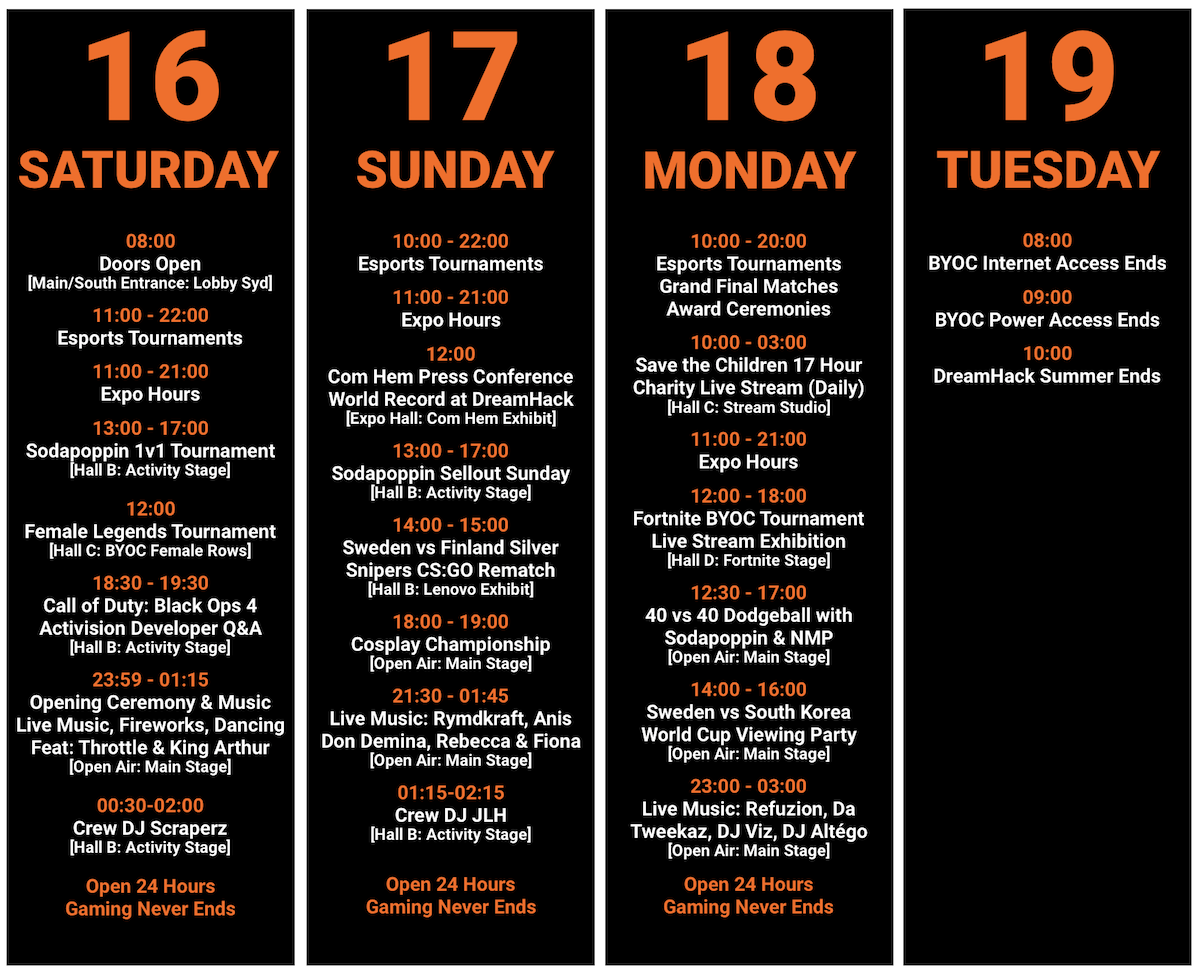 PRESS ROOM LOCATION
The Press Room is located in Lobby Nord, near Hall A. You will find a quiet space to work with tables, chairs, power and wifi Internet (venue-wide). An interview room is also available nearby in room K18 on a first come, first served basis. If the door is closed, please assume the room is in use and be quiet when entering to avoid disturbing interviews in progress. There are also many open spaces in Lobby Nord and throughout the venue with natural lighting that will work well for interviews.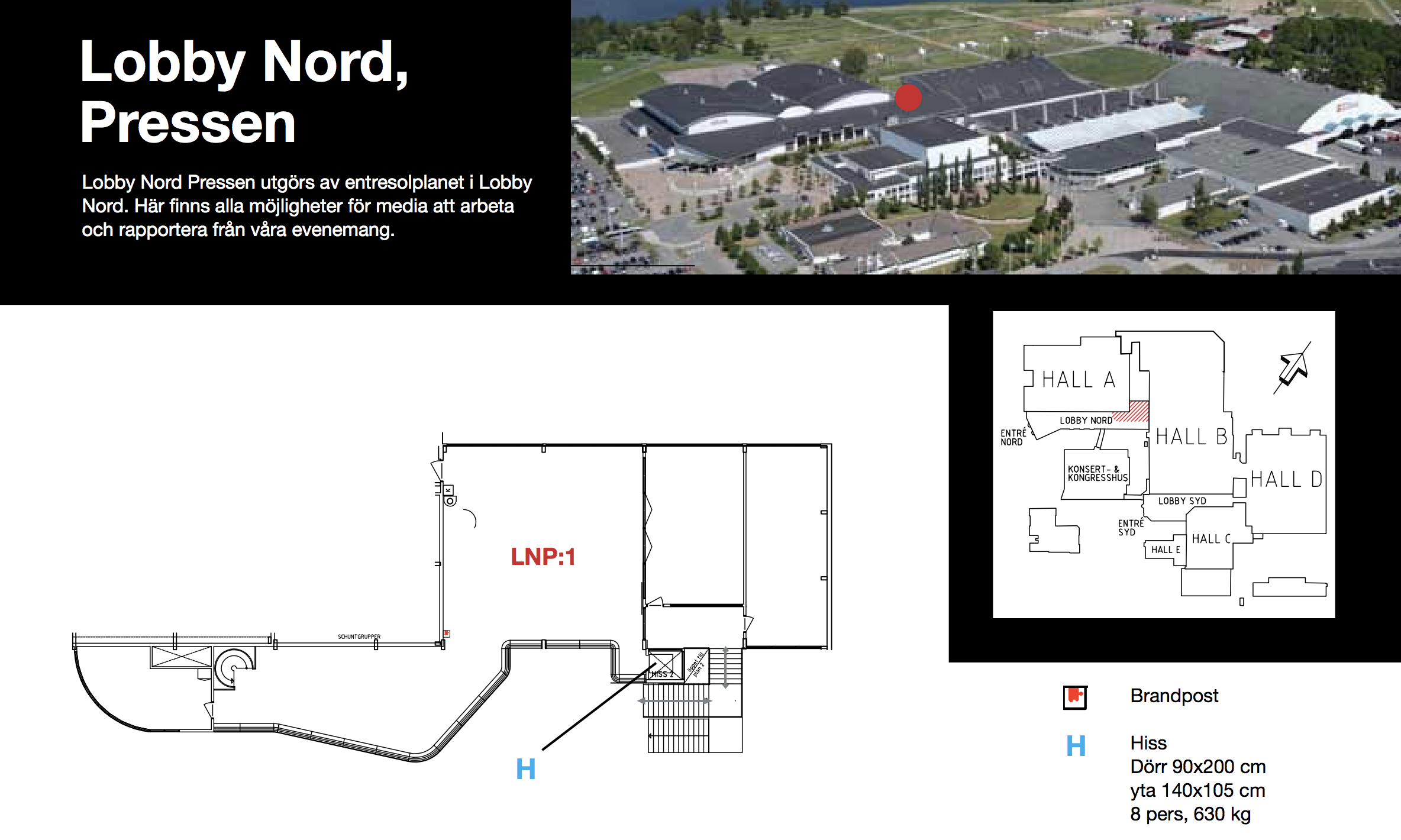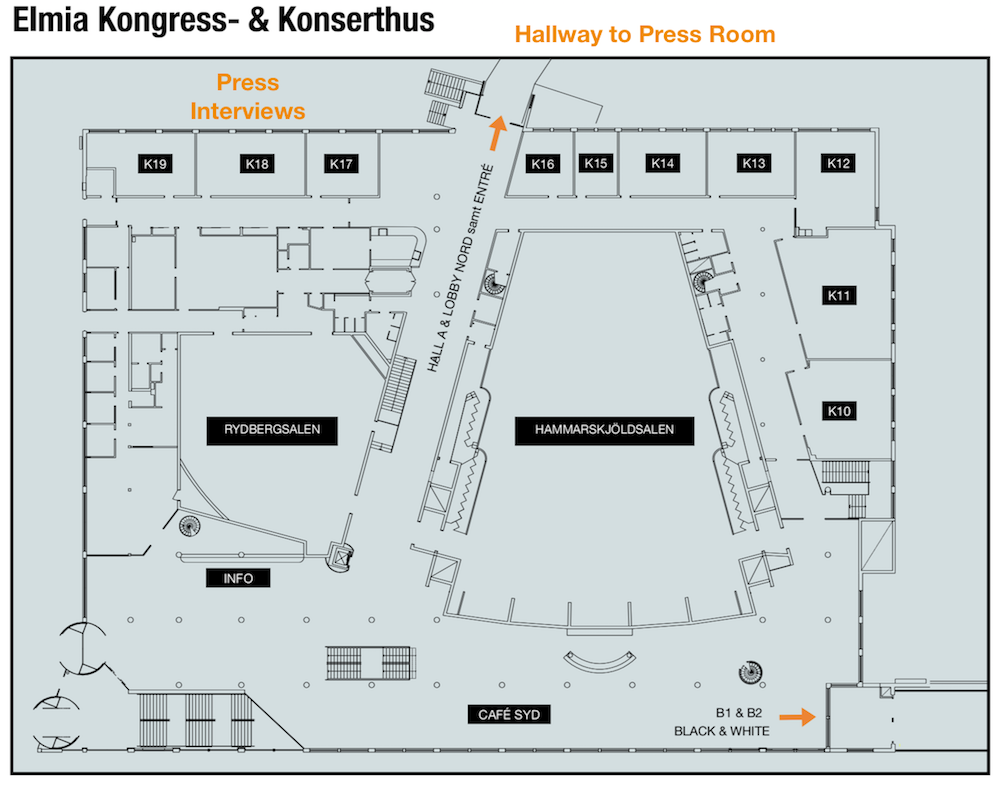 ---
VENUE MAP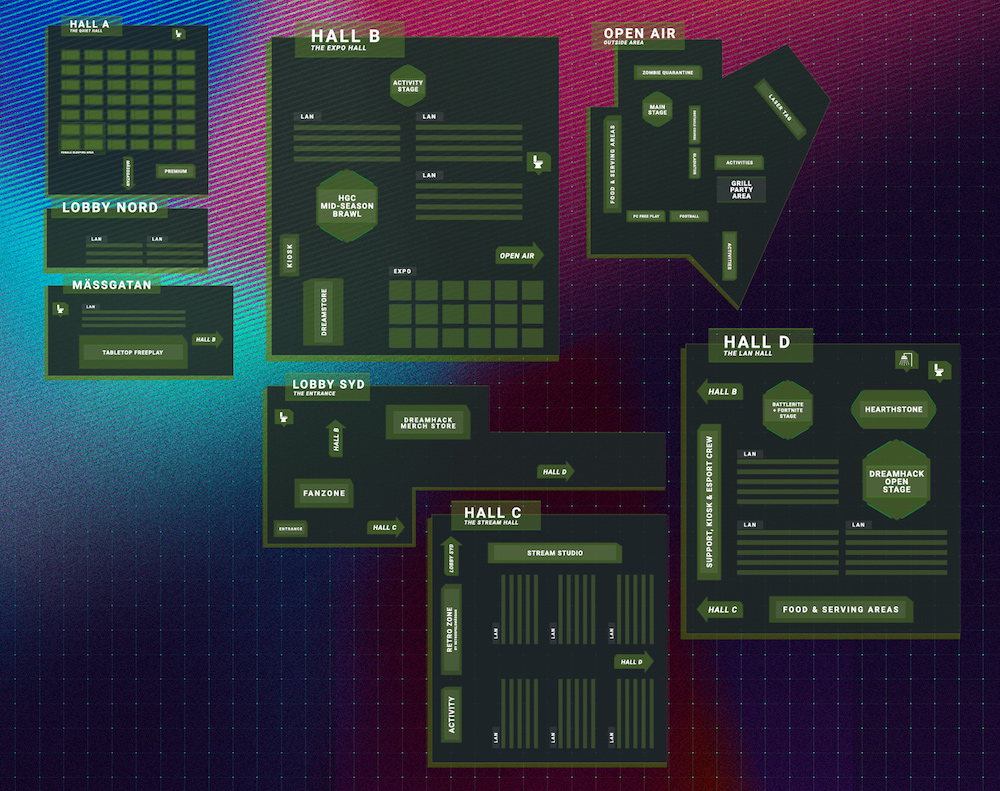 Click Image to Enlarge
---
INTERVIEW SCHEDULING
DreamHack Leadership: If you would like to schedule an interview during the event with DreamHack's Chief Product Officer and Director of Esports, Mike Van Driel, please send an email to mvd@dreamhack.com including a few time blocks that work for you. Mike will reply and schedule directly with you.
Players/Personalities: You are invited to approach players and personalities throughout the venue. Players in between matches are often on a strict schedule, but can sometimes fit in interviews. Once matches are complete for the day, they are typically more available. It is suggested to reach out ahead of time via social media to players and their coaches/managers, to request pre-scheduled interviews. Contact information is typically available on each team's website or individual player/manager Twitter accounts.
TV Filming/Production Queries:
We highly suggest reaching out ahead of time to arrange interviews via Twitter direct message or email. During the event, if you haven't pre-scheduled a meeting with an esports player or team, you can email one of our product managers (game directors) to request assistance. Attempting to contact the team manager or player directly should always be the first course of action. Include as much information as possible in your email (who you want to talk with, what about, when you are available to talk with them, etc). Consider that it is often difficult to arrange interviews during the event and is best arranged ahead of time, directly with the teams.
Counter-Strike: Global Offensive: Robin Nymann, robin.nymann@dreamhack.com
Hearthstone: Robert Häggström robert.haggstrom@dreamhack.se
Super Smash Bros. Melee & Brawlhalla: Alex Jebailey, alex.jebailey@dreamhack.com
Heroes of the Storm: Matt Weber, matt.weber@dreamhack.com
Battlerite: Robin Nymann, robin.nymann@dreamhack.com
Fortnite: Robin Nymann, robin.nymann@dreamhack.com
---
PRESS CONTACT
Justin Moskowitz, DreamHack
justin.moskowitz@dreamhack.com
+1.303.242.6670