DreamHack loves bringing the spirit of games and fantasy to life, and what better way to explore it than through cosplay! Start prepping your costume or simply come to experience the amazing creations of the participants! This year we will add in something extra by creating cosplay activities daily. We look forward to seeing your coolest new cosplay!
Cosplay Lounge
After popular feedback we will be adding a Cosplay Lounge for all cosplayers to enjoy a place with fixed dressing rooms, tables for setup, and a lounge where you can always come in and take a load of plus get a drink of water everyday during the event! The cosplay lounge will be supported by all our cosplay partners at DHS18! There will be dressing rooms, available, but for the competition day, competitors will have first go at the dressing rooms for Sunday! The opening hours are: 09:00 - 21:00 everyday! Note that it is closed on Tuesday. (Located: In the South Lobby (Syd), go up the escalators by Twitch Lounge and walk straight to reach the Cosplay Lounge)
Information
Cosplayers who sign up for the Cosplay Championship will get free entrance for the entire event. We will have different cosplay activities that you can attend during DreamHack Summer 2018, please keep yourself informed here about times and location announcements!
REGISTRATION: Sign up here!
---
Schedule
Saturday, June 16th
Sunday, June 17th
Monday, June 18th

17:30

- Cosplay Open
>> Open Air: Main Stage





18:30

- DreamHack Summer 2018 Cosplay Championship by Webhallen
>> Hall B: Activity Stage



11:30

- Cosplay Series by Steelseries
>> Expo Hall: Steelseries Booth




19:00

- Komplett Cosplay Showcase
>> Expo Hall: Komplett Booth





19:30

- DreamHack Summer Champions photoshoot at the Fan Zone
>> Lobby Syd: Fan Zone




17:00

- Cosplay Talk Show Followed by Meet & Greet with our Judges
>> Lobby Nord: Auditorium Rydbergssalen










Saturday
DreamHack Summer 2018
On Saturday we will be hosting an outdoor Cosplay Open for everyone that wants to showcase their creation on our main stage! The competition will have prizes, and will focus heavily on anything you can bring to the table! Acts, solo performances, cosplay groups, cosplay showcasing as a catwalk! It will be a mix of everything you could dream of! Register live at the event at the cosolay lounge between 10:00 and 17:00!
Komplett Cosplay Show
Komplett has traditionally held a cosplay show at their booth and with amazing prizes by their partners we welcome all to register by being present in the booth iun their best wares at 18:45 latest!
Sunday
DreamHack Summer 2018 Cosplay Championship
On the activity stage on Sunday at 18:00 get ready to see the most amazing cosplayers show off their creations!
Categories
Best Craft
Our focus on Craft will be judged by our veteran panel, and focus on the combination of skills, quality of work, and the total sum of what you put together in order to bring your character to life!
1st 15000 SEK + 2 tickets to any DreamHack event of your choice (travel not incl.)
2nd 10000 SEK + 2 tickets to any DreamHack event of your choice (travel not incl.)
3rd 5000 SEK + 2 tickets to any DreamHack event of your choice (travel not incl.)
Best Prop
2000 Sek + 2 tickets to any DreamHack event of your choice (travel not incl.)
Judge's Choice
2 tickets to any DreamHack event of your choice (travel not incl.)
After the Show at 19:30 we will do a photoshoot in the DreamHack Fanzone with all the participants!
JUDGES
---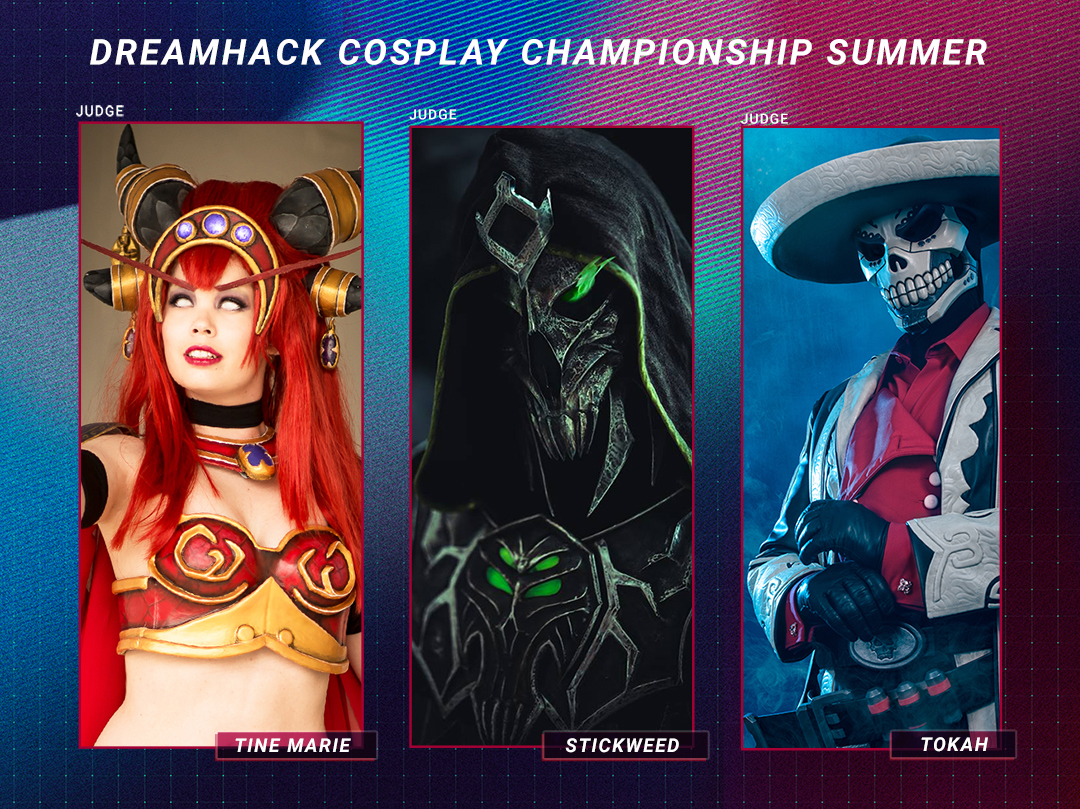 Tine Marie Riis arrived at DreamHack in 2013 for DreamHack Summer and as one of Norways most well know and recognizable faces within cosplay we are pleased to have her onboard for DreamHack Summer! Her cosplays varie within anime, manga, video games, and have always blown our minds! This year she will be coming to DreamHack to debut her latest creation, and we are looking forward to seeing what she has in store for us!

Cosplayer Tine Marie Riis


From Denmark, Stickweeds Arts and Crafts has been a participant at a tonne of our events, and is one of the best well known cosplayers that incorporates actual metal work into his cosplays. His level of skill with a hammer and forge are no match for his skills with Worbla crafting... because to be honest he hates the stuff. He loves metal work and enjoys a solid armor build when he can get the time to put one out!



Stickweeds Arts & Crafts



Recently Tokah Cosplay won the Swedish Championship for cosplay and has been one of our favorite Swedish cosplayers ever since we saw her debut of Mariachi Reaper from Overwatch at DHS last year! We are happy to announce her as the main Swedish judge for this years DreamHack Summer Cosplay Championship as she has a slew of skills and craftsmanship experience. Tokah has some of the smoothest props out there, get ready for the most insane level of detail!

Tokah Cosplay
Monday
Cosplay Series by SteelSeries
SteelSeries is hosting an amanzing coslay show in their expo booth at 11:30 fior insane prizes by Westcon Cosplay, El Giganten and Philips. SteelSeries started hosting their show last year and have been heklping coslayers level up their cosplay crafting abilities ever since!
Cosplay Talk Show & Meet the Judges
In the Rydbergsallen we will be hosting a talk show with those that are interested with our judges and take questions from the audience about the scene of cosplay and also generally speaking about how we are aiming to improve the cosplay experience for the future at DreamHack! Hosted by the Cosplay Team, and open dialog at the show we are ready to hear you guys out! Come and learn about cosplay, ask your questions or just listen in!