With only two weeks to go it is soon time for the world's top 16 teams to face off in Marseille. The schedule and groups are ready and we are happy to say that it is going to be some very exciting matches to come!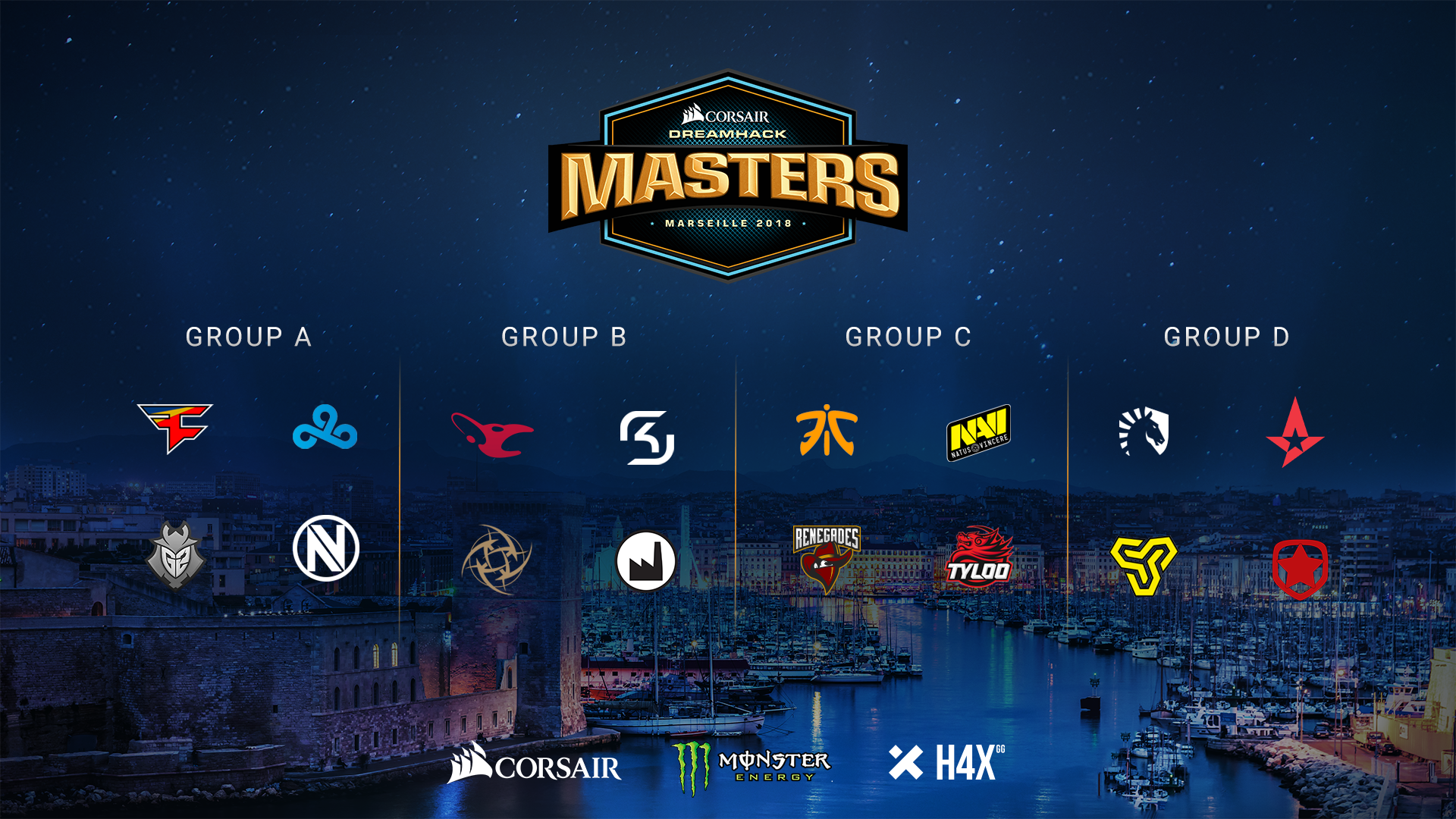 WEDNESDAY 18TH - BEST-OF-ONE
All times stated below are in CEST. All matches will be played on an accelerated schedule.
| | | | | |
| --- | --- | --- | --- | --- |
| | | | | |
| | | | | |
| MATCH | TEAM 1 | | TEAM 2 | STREAM |
| | | | | |
| 11:30 Pre-Show | | | | |
| 12:00 Group A - Match #1 | FaZe | vs | EnVyUs | |
| 12:00 Group B - Match #1 | Mousesports | vs | Valiance | |
| | | | | |
| 13:30 Group A - Match #2 | Cloud9 | vs | G2 | |
| 13:30 Group B - Match #2 | SK | vs | NiP | |
| | | | | |
| 15:00 Group C - Match #1 | Fnatic | vs | Tyloo | |
| 15:00 Group D - Match #1 | Liquid | vs | Gambit | |
| | | | | |
| 16:30 Group C - Match #2 | NaVi | vs | Renegades | |
| 16:30 Group D - Match #2 | Astralis | vs | Space Soldiers | |
| | | | | |
| 18:00 Group A - Elimination Match | EnVyUs | vs | G2 | |
| 18:00 Group B - Elimination Match | SK | vs | Valiance | |
| | | | | |
| 19:30 Group C - Elimination Match | Tyloo | vs | Renegades | |
| 19:30 Group D - Elimination Match | Gambit | vs | Spacesoldiers | |
THURSDAY 19TH - BEST-OF-THREE
| | | | |
| --- | --- | --- | --- |
| MATCH | TEAM 1 | | TEAM 2 |
| | | | |
| 9:30 Pre-Show | | | |
| 10:00 Group A - Winner's Match | FaZe | vs | Cloud9 |
| 13:00 Group B - Winner's Match | Mousesports | vs | NiP |
| 16:00 Group C - Winner's Match | Fnatic | vs | Na'vi |
| | | | |
| 19:00 Group D - Winner's Match | Liquid | vs | Astralis |
FRIDAY 20TH - BEST-OF-THREE
| | | | |
| --- | --- | --- | --- |
| MATCH | TEAM 1 | | TEAM 2 |
| | | | |
| 9:30 Pre-Show | | | |
| 10:00 Group A - Decider Match | FaZe | vs | EnVyUs |
| 13:00 Group B - Decider Match | Mousesports | vs | SK |
| 16:00 Group C - Decider Match | Renegades | vs | Fnatic |
| | | | |
| 19:00 Group D - Decider Match | Gambit | vs | Liquid |
SATURDAY 21ST - BEST-OF-THREE
DOORS OPEN 09:00
---
| | | | |
| --- | --- | --- | --- |
| MATCH | TEAM 1 | | TEAM 2 |
| | | | |
| 9:20 Pre-Show | | | |
| 10:00 Quarter-Final #1 | NaVi | vs | Mousesports |
| 13:00 Quarter-Final #2 | Cloud9 | vs | Gambit |
| 16:00 Quarter-Final #3 | Astralis | vs | FaZe |
| | | | |
| 19:00 Quarter-Final #4 | NiP | vs | Fnatic |
SUNDAY 22ND - BEST-OF-THREE
DOORS OPEN 09:30
---
| | | | |
| --- | --- | --- | --- |
| MATCH | TEAM 1 | | TEAM 2 |
| | | | |
| 10:15 Pre-Show | | | |
| 11:00 Semi-Final #1 | NaVi | vs | Gambit |
| 14:00 Semi-Final #2 | Astralis | vs | Fnatic |
| 18:00 Grand Final | NaVi | vs | Astralis |